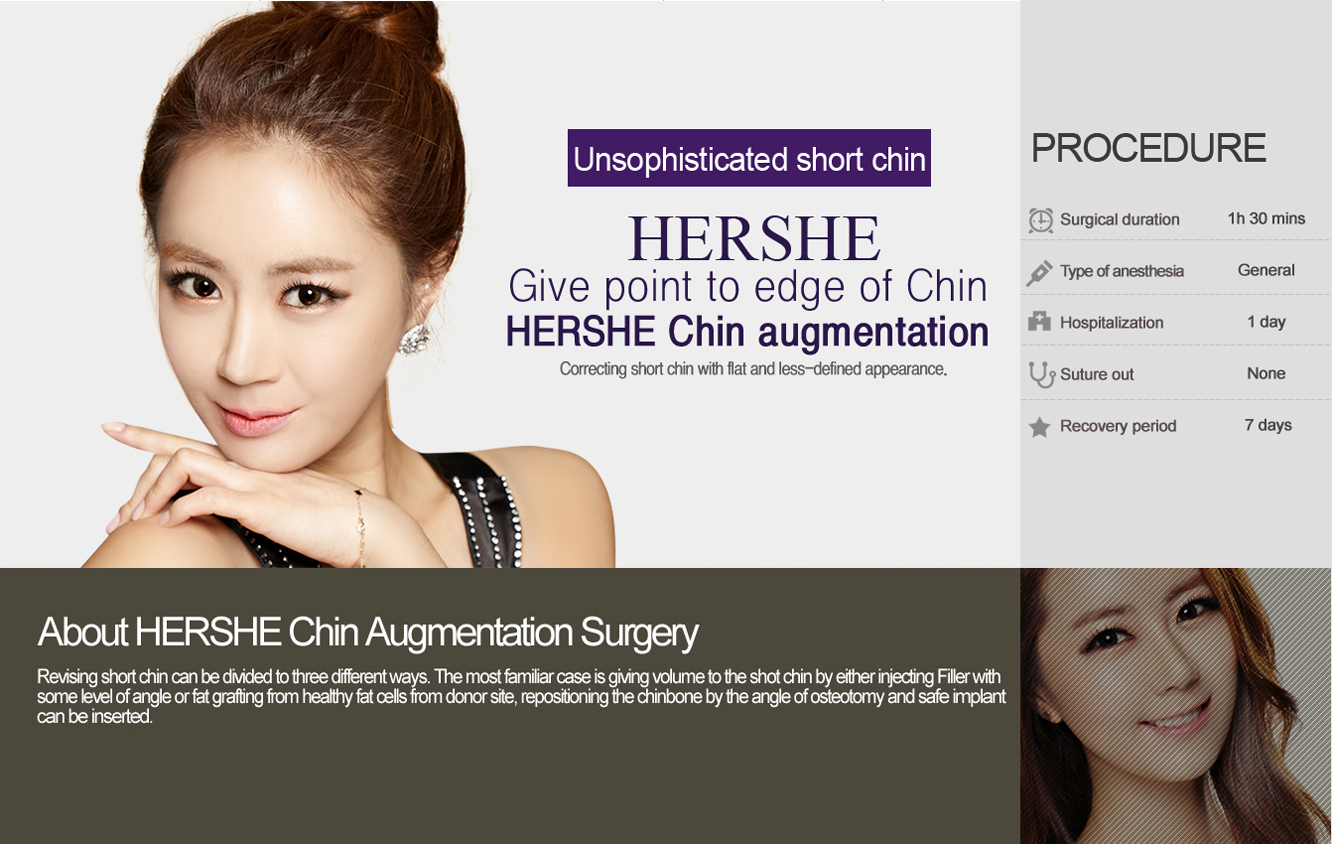 ​HERSHE's V Chin Augmentation is personalized!
Various different surgical method is available according to the symptoms of Short Chin!

With through consultation with our Chin surgey specialist with many years of experience will guide you with right surgery that is suitable for your own chin to fit your ratio of facial contour .
​
Who would be suitable for HERSHE Chin Augmentation?
● Have short/ small/ set back chin

​

​● Have small lower jaw

​

● Have short chin and protruding mouth together

​


Features of HERSHE Chin Augmentation
Filler Injection

Autologous Fat graft

Chin ostectomy

Chin implant​

Types of Anesthesia

​Sleeping

Sleeping

Sleeping/Partial

Surgical Duration

10 mins

​

​

1 hr

1 hr

Recovery Period




2 days ​​
1. Filler injection

Filler injection is quick and simple solution to give volume to the short chin.

HA Filler Sub Q, which has largest molecule from HA filler product, is commonly injected at flat or depressed area to create smooth line flow. This procedure takes only about 10 minutes, and daily activities are not affected while the effect duration is about 2 years.




2. Chin ostectomy and chin implant

There are two types of chin ostectomy: Chin advancement & Mandible advancement.

​

Chin advancement is to have chin ostectomy to re-position the chin bone. This method enables to adjust the length of the chin by the angle of ostectomy, with natural chin shape with improved neck line while comforting the tension of the chin by making easy to close the mouth.

Mandible advancement is required in case of malocclusion (cross bite).

For chin implant, safe implants such as gore-Tex or silicone implant is inserted to give volume or to re-position the short chin. This method could be effective in moderate cases.

​

3. Autologous Fat graft

Fat graft proceeds from harvesting healthy fat cells from donor site, than refined to be injected in the forehead. Engrafted fat cells will remain permanently after the procedure.

The possibilities of deformation and foreign body reaction are rare, and surgical scar remains after the procedure.​


Safe Procedure

HERSHE uses autologous fat cells, which are identical to the patient's own fat tissue and growth factors. Possibility of side-effects and rejections are rare.

​


HERSHE does not freeze fresh cells

​In order to increase the survival rate, HERSHE does not freeze fresh cells to provide high quality adipose tissues, while eliminating the damaged adipose cells.​

​